Mini Blast Chiller Freezer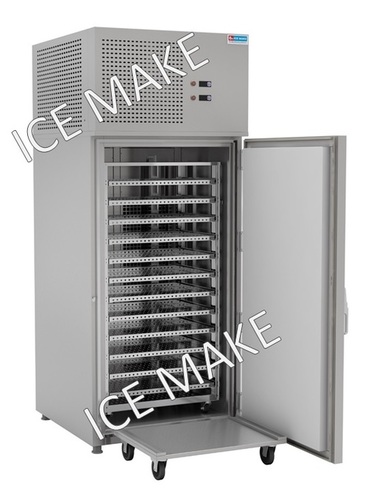 Mini Blast Chiller Freezer
Product Code : 21
Brand Name : ICE MAKE
Ice Make Blast Freezer/Chiller are the essential system to extend the shelf-life of food. These machines are designed to meet customer's requirement to improve quality and organization of the work in hotel-restaurants, confectioneries, bakeries and ice-cream shops. These machines also helping meet food hygiene standards, preserving the quality of foods, and reducing food waste.
Features
Time Saving
Purchasing Cost Saving
Less Weight Loss
Less Dehydration
Wider Menu
Blast Freezing:
To maintain the quality (colour, taste, Fragrance and feel) of food only possible if freezing done quickly.
Ice make blast freezing is here with the solution, during the freezing process the water molecules turn in to the small crystals with quick down the temperature of food from 0ºC to -26ºC in approx. 5-6 hours, and it is sufficient time to obtain micro crystallization to keeping qualities of food. It is serve fresh without loss of liquid and flavour after defrosting.
Blast Chilling:
The main reason of growth in bacteria takes place while the food is at the temperature of between 10ºC to 70ºC and cooked food left down to cool slowly, to be serve later on loses its Quality.
Ice make blast while is here wuth the solution to lower the temperature at the core of foods that just have been cooked, down 4ºC in approx. 90 minutes, reducing bacterialgrowth and dehydration of foods. The finale output of foods will help you to serve with quality, colour, odor and extending self of life
Benefits
Reduce the deterioration of products during the freezing process
Increase the shelf life of the food product
Maintain food quality including flavour, texture, colour, aroma and nutrients
Save money making use of seasonal and bulk offers
Save labour by enabling larger batch production
Reduce waste of unwanted products and preserve for later use
Add new products to menu
Be prepared and stored during less busy periods
Assist in the improvement of service and kitchen organisation
Applications
Hotel & Restaurant Industry
Bakery & Confectionaries Industry
Ice Cream Industry
Technical Specifications
Description

Blast Freezer

Blast Chiller

Model

IBF - 50/6

IBF - 100/12

IBC - 50/6

IBC - 100/12

Size (H X W X D)

66" X 38" X 40"

89" X 38" X 40"

66" X 38" X 40"

89" X 38" X 40"

Storage Capacity

50 KGS

100 KGS

50 KGS

100 KGS

Application

To Freeze Restaurant kitchen Foods, Ready to eat Food

To Freeze Restaurant kitchen Foods, Ready to eat Food

To Chill Restaurant kitchen Foods, Ready to eat Food

To Chill Restaurant kitchen Foods, Ready to eat Food

Temperature

-22°C to -26°C

-22°C to -26°C

4°C

4°C

Ref.Unit Capacity in BTU

4000 BTU*

6000 BTU*

9000 BTU**

16000 BTU**

Refrigerant

R404

R404

R22

R22

Pull Down Time

4 TO 5 Hrs (From 10°C to -18°C)

4 TO 5 Hrs (From 10°C to -18°C)

90 Minutes (From 70°C to 10°C)

90 Minutes (From 70°C to 10°C)

Material of Construction

OUTER-DOOR -S.S 202, INNER - S.S. 304

OUTER-DOOR -S.S 202, INNER - S.S. 304

OUTER-DOOR -S.S 202, INNER - S.S. 304

OUTER-DOOR -S.S 202, INNER - S.S. 304

Connected Load

1.7 UNIT

2.5 UNIT

`

2.5 UNIT

No. of Pans

6 (2/1*65 MM)

12 (2/1*65 MM)

6 (2/1*65 MM)

12 (2/1*65 MM)
Eva. Temp - -27°C & Cond. Temp - +50°C
** Eva. Temp - -2°C & Cond. Temp - +50°C
| | |
| --- | --- |
| | ICE MAKE REFRIGERATION LIMITED All Rights Reserved. |